Celebrity faithful strive to put halo atop organization
The San Diego Union-Tribune/February 15, 1998
By Douglas Frantz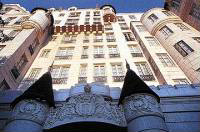 Scientology's Celebrity Center
Los Angeles -- John Travolta stood in the parking garage below City Hall, waiting for his sleek black Jaguar. He had just accepted an award on behalf of the Church of Scientology from the public works commission, and he was talking earnestly about what the religion means to him.
"Through Scientology, you learn to examine your life and be more productive," Travolta said as three senior church officials hovered nearby. "You can make sure you avoid any pitfalls and you can face your challenges and handle them."
Travolta, referred to within the church hierarchy, as J.T. is the brightest star in Scientology's galaxy of celebrities. He is a box-office draw whose value as a public representative of the much-debated group has soared along with his rejuvenated career.
But the star of "Pulp Fiction" and other movies is far from alone in stumping for Scientology.
More than any church that has begun on the religious fringe, the Church of Scientology has cultivated a potent roster of celebrity members—including actors Tom Cruise and Kirstie Alley, musicians Isaac Hayes and Chick Corea and television legal analyst Greta Van Susteren—in its struggle to win acceptance as a mainstream religion and spread its message at home and abroad.
Other celebrities also have become visible representatives for their religions, like actor Richard Gere, who has pushed Buddhist causes.
But Scientology's use of celebrities is part of a calculated three-decade effort that religious scholars and others say is extraordinary for a religious group.
Scientology has established separate facilities, called Celebrity Centers that cater to prominent members by offering private counseling, courses and even emergency health services.
Although the facilities are open to all Scientologists, internal church documents show that their primary purpose is to recruit celebrities and use the celebrities' prestige to help expand Scientology. In turn, some of those celebrities have become prominent advocates for Scientology.
Last fall Travolta criticized the German government's stand on Scientology before Congress and spoke out against a British television documentary that was highly critical of the organization's founder, the late L. Ron Hubbard.
In the March issue of George magazine Travolta describes a conversation last April in which President Clinton promised to try to help ease the treatment of Scientologists in Germany, where the church is locked in a fight with the government over accusations of discrimination. At the time, Travolta was starting to film "Primary Colors," the upcoming movie in which he portrays a womanizing Southern governor seeking the presidency.
Kirstie Alley is the spokeswoman for a drug treatment program [Narconon] affiliated with Scientology and founded a church in her hometown of Wichita, Kansas. Tom Cruise wrote to Congress on behalf of German Scientologists last fall, and he and his wife, Nicole Kidman, praise Scientology's founder in an exhibition on Hubbard's life at a Scientology center in Los Angeles. Anne Archer, who had a leading role in "Fatal Attraction," among other movies, has appeared at pro-Scientology rallies in Germany. Isaac Hayes attacked newspaper articles critical of the church on his New York radio show and joined Lisa Marie Presley in Opening a Scientology church in Memphis, Tennessee.
"Scientology works for these people, and they just want to give to others what works for them," said Marty Rathbun, a senior church official. "We don't give them a badge and send them out. They do it on their own."
For an organization fighting to win mainstream acceptance in an atmosphere of suspicion, association with celebrities in the public mind can be very beneficial.
"These groups are often crying out for legitimacy, and they seek any way they can, especially if the are under duress in public," said James Richardson, a professor of sociology and law at the University of Nevada at Reno. "What's phenomenal is the success that Scientology has had with the entertainment industry."
Scientology has needed any help it could get in presenting a positive image to counter the often-negative public perceptions.
In 1993, only after a bitter campaign and a two-year government inquiry did the Internal Revenue Service grant the church the tax-exempt status accorded other religions.
Church staff members remain under criminal investigation in connection with the 1995 death of a Scientologist at a church facility in Clearwater, Florida.
Many critics and some governments, including Germany and France, still question whether Scientology is even a religion saying instead that it is a moneymaking enterprise because of the high fees it charges members.
In response, Scientologists argue that they are victims of religious intolerance. In Germany, for instance, church officials have documented nearly 1,000 instances of what they say is discrimination against their members.
It was Hubbard himself who recognized the value in having celebrity members.

Hubbard

a writer, composer and painter who founded Scientology in 1954, saw early on that recruiting prominent people could bring quick recognition to his new religion. Beginning in the late 1960s, Scientology built Celebrity Centers specifically to cater to artists and actors.
"The purpose of Celebrity Center is to forward the expansion and popularization of Scientology through the arts," Hubbard wrote in a church policy letter in 1973.
Ten Celebrity Centers exist around the world, with the largest and most successful in the former Chateau Elysee hotel restored by Scientology, near the Hollywood Hills.
The Celebrity Center is open to all Scientologists, and on any given day members with backgrounds of all varieties can be seen taking the counseling and courses that constitute Scientology's religious philosophy.
But its special clientele is celebrities.
In interviews and testimonials printed in Celebrity, a Scientology magazine, Scientologists praised the center as a spiritual retreat.
"Celebrity Center is truly an oasis in this town for every artist on any level in their career," Travolta told the magazine in a recent issue. "This is an ultra-safe environment. It is the safest place in town for me. This is a place where I know I have friends I can trust."
In several interviews arranged through church officials, prominent Scientologists talked about what t hey see as the special appeal of the church philosophy to people in creative fields. They described techniques that help them communicate better and focus more clearly on their lives and careers.
In many ways, the descriptions echoed the criteria of what scholars have called a world-affirming religion. These are groups that stress philosophies and techniques intended to help pet be more successful in the world which they live, rather than concentrating on the afterlife.
Like most religions, Scientology embraces a creation myth.
According to its scriptures, people are immortal spirits who have lived through many lifetimes after being banished to Earth 75 million years ago by an intergalactic ruler. Scientology counseling is designed in part to remove obstacles accumulated over those lifetimes.
Less baffling to those outside Scientology are what adherents say is the philosophy's ability to provide them with tools to identify and solve problems.
"Through its drills and studies one may find the truth for himself says an introductory text. "The technology is therefore not expounded as something to belies but something to do."
Travolta joined the church 1975, after an actress gave him a book on Scientology and just before he got a breakthrough role in the TV series "Welcome Back, Kotter."
Although his career waned in the 1980s, he said he stuck with Scientology because it taught him to overcome challenges
"I'm a high school dropout, but when I applied Scientology study techniques I was the best jet pilot to ever go through the school that American Airlines runs for civilians," said Travolta, who owns three jets and is licensed to fly them all.
Jenna Elfman is on the way up, the star of the twenty something sitcom "Dharma and Greg" and playing opposite Richard Dreyfuss in a new movie. She credits Scientology with teaching her to focus on her goals.
"What it really does is give you your self-determination back," said Elfman, who joined in 1991 at the suggestion of her husband, Bodhi Elfman, also an actor and Scientologist. "Scientology clears away the noise so you can be certain of your point of view."
Mark Isham, who has composed scores for more than 20 feature films, was searching for spiritual guidance in the early 1980s when a Friend who was a Scientology minister gave him a copy of its original text, "Dianetics."
"It had a very practical side," recalled Isham. "As an artist you are very involved in doing something. There is a craft to putting the first note on the page. There was a craft in back of Scientology, too." Isham said Scientology's techniques have helped him communicate better with film directors and others who are critical to his work and also to understand his own spiritual side. "It opened up whole concepts of what it is to be an artist, what is the purpose of being an artist," he said.
With help from its celebrity members, Scientology has clearly moved toward the mainstream in Hollywood, where the church was often the target of jokes in the '70s and '80s. But celebrities have had mixed success a helping the church outside the entertainment industry.
Travolta's appearance before Congress did not sway enough roses to win approval of legislation asking Clinton to express new concern about the treatment of Scientologists in Germany.
Likewise, the opening of the Scientology church in Wichita by Alley brought some early press attention but stirred a lingering dispute in the religious community.
Alley grew up in Wichita and says she moved to Los Angeles to overcome her addiction to cocaine through Narconon a drug treatment program supported by Scientology. She said the results were so effective that she became the program's spokeswoman and has begun an effort to expand Scientology by financing new churches. "This is a personal thing," Alley said. "It's fun for me. It's my hobby I want to do something for the world."
Alley, with Travolta and other Scientology celebrities on hand, cot the ribbon on the Wichita church three years ago. She received a proclamation from the City Council and spoke at a luncheon of Inter-Faith Ministries, which represents more than 80 religious congregations in the Bible Belt city.
The church opening gave Scientology a profile in Wichita, and its local officials have taken part in some citywide religious events since then.
The interfaith organization also has discussed offering membership to the group, although Scientology; has not yet applied. "If they want to be a member, let them be a member," said the Rev. Samuel Muyskens, executive director of the ministries group. "What harm can they do?"
Plenty, say ministers of some established congregations. Muyskens said several prominent ministers have made clear to him that they would withdraw from the Inter-Faith Ministries if Scientology was given a seat at the table. The Rev. Keith Koch, pastor of Grace Presbyterian Church in Wichita, said Scientology is a religion "like gambling is a religion." "The larger churches," he said, including his own, "would be adamantly opposed to Scientology becoming a member."
The leaders of Scientology say that such remarks reflect the intolerance the church faces in many quarters.
"Bigotry is born out of ignorance, and that statement evidences an ignorance of what Scientology is and does," Rathbun said.
For now, however, the mansion in Wichita that Alley personally helped refurbish stands as an outsider in the religious community, a testament to the difficulty that Scientology encounters, despite its celebrity friends.
To see more documents/articles regarding this group/organization/subject click here.