Pumping guru
THE RECORD, Bergen, N.J./September 14-17, 1996
By Mike Kelly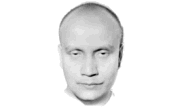 Poor Emma Lazarus, she of the poor, tired, huddle masses yearning to breathe free. Emma now shares her poetic glory at the Statue of Liberty with a New Age swami from Queens who claims that weightlifting is the path to inner peace.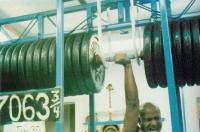 Sri Chinmoy--another press for the press?
Whatever you can say about Guru Sri Chinmoy, self-proclaimed holy man and musclemen, you can't say he doesn't know how to get publicity. Whether it's persuading his followers to engage in long-distance somersaulting, lifting all manner of elephants, cars, airplanes, and pro football players for the cameras--the man knows how to get his name out there.
But now Chinmoy, 65 and a native of Bangladesh, has achieved publicity nirvana. He has persuaded the National Park Service to let him place a plaque with a poem in the lobby at the base of the Statue of Liberty, officially designating the landmark as a "Sri Chinmoy Peace Blossom" site. Other than Emma Lazarus' famous "New Colossus''- "Give me your tired, your poor, your huddled masses yearning to breathe free.. "- no other poet, guru, weightlifter, or publicity hound has managed to achieve so much for so bogus a reason.
What is incredible about this story is not just Chinmoy's plaque, but the decision by the Park Service to permit this. The Park Service Superintendent who keeps watch over Liberty Island and its famous statue, Diane Dayson, concedes she didn't bother to check on Chinmoy's background before allowing him to secure such a coveted spot on a national landmark. She says that after being approached by his devotees, she merely read his poem and watched a Chinmoy-produced video before giving approval for the plaque.
Dayson says she never called her superiors in Washington. Nor did she check on Chinmoy's claim that his group had some 900 other "peace blossom" sites, including Mount McKinley and the Grand Coulee Dam. "I really didn't think it was such a big deal," Dayson said Wednesday. "That was not my purpose-to research the group." She adds that the statue is for "all cultures" and that Chinmoy's poem and plaque are "nice" because they are "a symbol of peace."
So let's go to the poem:
"O Polestar Statue of Liberty! Earth-heart's pinnacles-Divinity. America's proudest Vision-pride - Her beauty's cosmos-fragrance-ride-Freedom-smile Bestower is your Soul. World-peace-hunger's nectar-flooded Goal."
Emma Lazarus's words evolved the flesh and blood emotions of the immigrant experience-"the wretched refuse of your teeming shore." Chinmoy's lines seem inspired by Jupiter's moons-or the dialogue from "Melrose Place." (Chinmoy declined to comment, as did his spokeswoman.)
But whatever chuckle you may find in Chinmoy's sappy poetry, his reputation is anything but bland. The Cult Hotline Clinic, a Manhattan-based counseling group sponsored by the Jewish Board of Family and Children's Services, portrays him as a charlatan who views outsiders as a threat and keeps followers on a tight reign. The clinic's hand, Arnold Markowitz of Tenafly, terms Chinmoy's poem a "coy way of getting some sort of imprimatur of approval." Joseph Szimhart, who has counseled former Chinmoy followers, says of the guru: "He has an insatiable need for recognition."
And this is just the tip of the swami's file. For too many who have watched his antics, Chinmoy comes off as a salesman for himself, hiding behind sappy poetry and preying on people's good nature. That he managed to fool the Park Service so easily is embarrassing. Who's guarding Emma Lazarus's lamp beside the golden door?
To see more documents/articles regarding this group/organization/subject click here.