Police looking for church's private eye (Eugene Ingram)
St. Petersburg Times/January 28, 1995
By Thomas C. Tobin
A private investigator who does work on behalf of the Church of Scientology is being sought by Tampa police in a case that features a bizarre claim about the Pasco County sheriff.
The investigator, a former Los Angeles police officer named Eugene Martin Ingram, is accused of impersonating a Hillsborough County sheriff's detective. Tampa police say Ingram was quizzing a woman about an alleged prostitution ring that he said involved Pasco County Sheriff Lee Cannon.

Police also have investigated Matt Bratschi, a reporter for the church publication Freedom magazine. Bratschi, who has not been charged, is believed by police to have accompanied Ingram on the interview.

The woman, who lives in Pasco County, contacted authorities and told them she does not know Cannon and knows nothing about a prostitution ring.

"I was a little amazed," Cannon said Friday of the church's inquiry. "The whole thing is a mystery to me."

He said he has never had any contact with the Church of Scientology, does not know the woman and is not connected to any prostitution ring. Nor is his department involved in any large-scaled prostitution investigation, he said.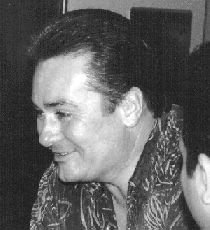 The woman, whose name is withheld by the Times to protect her privacy, declined to comment Friday.

Former members and critics of the church say Ingram has been seen around the country in recent years, harassing them in connection with their anti-Scientology activities, questioning their neighbors and using other intimidation tactics.

Ingram did not return messages to his Los Angeles business office Friday. Bratschi could not be reached for comment.

Ingram's Los Angeles lawyer, Elliot Abelson, said Friday that he had no information on the charge but added that it "sounds ridiculous." He said Ingram works for several law firms, some of which represent the Church of Scientology.

Ingram "is one of the finest investigators I've ever seen," said Abelson, who also has represented Scientology and has known Ingram for 20 years. "He's just ordinary fold as far as I'm concerned. I don't think he has intimidated anyone who doesn't want to be intimidated."

Kurt Weiland, a top Scientology official in Los Angeles, said Ingram and Bratschi were working on two investigations for Freedom magazine last year.

One was based on a tip about sexual activities involving Pasco County officials, he said. The other, he said, was an investigation of the St. Petersburg Times. For years, the Church of Scientology has been critical of the coverage it has received from the Times.

The church's spiritual headquarters are in Clearwater.

At some point, Weiland said, Bratschi and Ingram "had indications of a cross-over" between the two investigations. He would not elaborate.

"We haven't published everything there is to publish," Weiland said.

According to police reports, two men showed up last June at the Tampa headquarters of Salomon brothers, a brokerage firm. They allegedly said they were police officers and asked the security guard to summon the woman, a Salomon Brothers employee.

The woman told police they presented badges with gold stars and green-and-beige identification cards and said they were Hillsborough County sheriff's detectives. She said they asked her about a prostitution ring in Pasco involving Cannon and asked whether she had dated Cannon.

The woman called the Pasco Sheriff's Office, who reviewed the sign-in log at Salomon Brothers. The log contained the names "G. Ingram" and "Matt Bratsch."

Pasco investigators recognized the names. On the same day the woman was questioned by the two men, Bratschi and Ingram had submitted a lengthy public records request at the Pasco County Sheriff's Office.

The request asked for 14 items, including appointment books, personnel files, telephone records and internal affairs records about a "sex scandal" within the office's communications division.

The Sheriff's Office provided the two with some of the information requested. A handful of items were denied either because they weren't public records or because they weren't on file with the sheriff, said Mike Randall, the sheriff's legal counsel.

Later, Tampa police detectives acquired pictures of Bratschi and Ingram from their California driver's licenses. The woman from Salomon Brothers identified Ingram as one of the two men who interviewed her, but couldn't identify Bratschi.

There is a warrant in Tampa for Ingram's arrest. His bail is set at $1,000. The maximum penalty for impersonating a police officer, a felony, is five years in prison and a $5,000 fine.

Asked about the charge, Weiland said: "I've heard stuff like that before and it's usually done when an investigator gets close to something. They're trying to back him off."

Abelson, the lawyer for Ingram, said Ingram left his business card with the woman. He disputed the charge and suggested police were "trying to prosecute the guy in the newspapers. Obviously, you guys are going along with it."

Scientology has a long history of conducting aggressive investigations. The most notorious example came in the 1970s when Scientologists infiltrated government offices in Washington D.C. and stole documents relating to government actions against the church.

A total of 11 high-ranking Scientologists, including the wife of Scientology founder L. Ron Hubbard, were convicted.

Church officials recently said those people are no longer with the church and that their days of hardball intimidation tactics are behind them.

But several former members say Ingram has harassed them.

Ingram appeared in Seattle recently, according to Stacy Young, a former church official and the wife of Robert Vaughn Young, formerly, a top Scientology spokesman. The couple left the church in 1989 and now speak against it.

Ingram has been spreading false information about the Youngs to their neighbors and friends, Stacy Young said. She said a neighbor was taking out his trash three weeks ago when Ingram appeared and began questioning him in the street. When Robert Young confronted him, Ingram ran, she said.

Pricilla Coates, chair of the Los Angles Cult Awareness Network chapter, said Ingram once showed up unexpectedly at her husband's office. Ingram told her husband, who is a physician, "that I was getting kickbacks from deprogrammers and that I would get commission of like, $10,000," Coates said. She denied it.
[Note: WARNING! The Cult Awareness Network (CAN) was recently bankrupted and bought up by Scientology. We strongly recommend you do not contact them for assistance.]
Ingram used to work for the Los Angeles Police Department, where he was a desk sergeant. He was fired in 1981 on charges that he ran a house of prostitution and tipped off a drug dealer about a raid. In a jury trial, he was later acquitted.

In 1985, after Ingram began working as a private investigator, a letter surfaced indicating that an LAPD officer had given Ingram permission to eavesdrop on a former Scientologist.

This was strictly against department policy. Then LAPD Chief Daryl Gates sharply criticized the episode.

Ingram shrugs off criticism. He told the Los Angeles Times for a story published in 1990: "People who claim that I have conducted an improper investigation probably have so much to hide."


To see more documents/articles regarding this group/organization/subject click here.