David Miscavige Speaks...
In six hours of interviews, Miscavige discussed and defended the organization he has led since age 26.
St. Petersburg Times/October 25, 1998
Story by Thomas C. Tobin
Photos by Robin Donina Serne of the Times Staff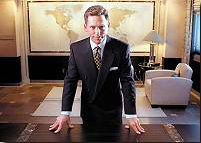 David Miscavige
About fears Scientology plans to take over Clearwater: "Oddly enough one thing that we have never attempted to do ... is to promote Scientologists moving to Clearwater. That was never part of the planning. Ever."
----
About what should happen next in Clearwater: "I do think we have to put the past behind us, and that's why I felt a dialogue should be opened. To take a bigger step."
-----
About Scientology's neighbors in rural Southern California: "We're not a mystery to them ... They come here, they don't leave hypnotized. They come here, they don't see a bunch of, quote, cult members. ... They speak to (Scientologists). You can't fake friendliness. You either are or you aren't. It's just that simple."
---
About the millions of dollars Scientology spent to fight the IRS: "It was ridiculous. It was like opening a faucet. And of course internally we're thinking this is nuts. But on the other hand it looked like if we didn't do it. ... I don't think we'd be here right now."
---
About Scientology's protest last December against Clearwater Police: "I think there was a great deal of frustration ... I do think Scientologists feel that they've been persecuted down there and I think they're right. I do think they feel they've been singled out and I think they're right."
---
About the unexplained death of Scientologist Lisa McPherson: "Here's what I do know. No Scientologist -- no Scientologist -- is involved in attempting to do in another Scientologist."
"I think some people who hate Scientology were thrilled when Lisa McPherson died because they thought they had some way to get us ... and I think that's despicable."
"Who's being called murderers? The Church of Scientology. Well, you're looking at me and if you actually believe that I would like Lisa McPherson to die, I don't think you believe that. I can't even imagine you thinking that. But that's the impression that gets passed around then."
"If they had the evidence ... that somebody actually did her in, they'd have filed a prosecution. I mean I just don't believe this is how any other incident would be treated in Clearwater. I just don't believe it."
---
About the infighting that threatened Scientology in the early 1980s: "It was more on the brink than I think people realize. It was more on the brink than I realized at the time."
---
And how much the IRS fight strained the church: "Things were very grim in 1990 and I don't think a lot of Scientologists knew that. I know they didn't know it. We kept it to ourselves. It was terrible."
---
About why Scientology hasn't been more open: "Number one, when you are under siege -- and there have been periods when we have been under siege -- of course you have a tendency to just clam up and reach in."
---
About Scientology wanting peace and also wanting to defend itself: "If you want to know what an ultimate goal would be, of course it would be utter peace. That's misconception one, that we like the war. That's misconception one."
---
About his energy level: "I've sort of noticed that if I'm tired the other guy's probably really tired ... From the second I'm awake, I am on. I'm on."
To see more documents/articles regarding this group/organization/subject click here.