Abortion doctor assassinated in upstate New York
CNN, October 24, 1998.

Associate Press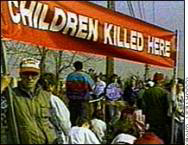 Anti-abortion demonstrators protest outside Slepian's clinic in 1992
AMHERST, New York (AP) -- A doctor who performed abortions has been killed only four days after authorities warned abortion providers to be alert for possible attacks.
Dr. Barnett Slepian, 51, was gunned down by a single shot from a high-powered rifle about 10 p.m. Friday night.
The bullet crashed through his kitchen window and struck Slepian in the back as he paused in an office area of his suburban Buffalo home, police said.
Investigators believe the gunman hid behind a swimming pool in the back yard of the doctor's house, The Buffalo News reported.
"Somebody lay in wait," said Amherst Police Chief John B. Askey. The FBI and Canadian authorities on Tuesday warned of possible attacks against doctors who performed abortions in upstate New York and Canada.
Veterans Day link
Police were concerned, because attacks on four abortion providers over the past four years have occurred within a few weeks of November 11 -- Veterans Day.
Three Canadian doctors and a doctor near Rochester, New York, have been shot and injured. In each case, the doctors were fired upon with a high-powered rifle through windows in their homes.
Karen Swallow Prior, formerly of Operation Rescue and now the Right-to-Life Party candidate for lieutenant governor, condemned the attack on Slepian.
"For anyone to take it upon himself to be judge, jury and executioner," she said Saturday, "is nothing but sheer evil."
Victim a longtime target
Slepian had been the target of anti-abortion protesters since the 1980s. Activists claimed a victory when Slepian temporarily closed his Amherst office in 1992 during the "Spring of Life," the massive protest by the anti-abortion group Operation Rescue in the Buffalo area.
Slepian told colleagues that he closed the office to avoid inconveniencing other doctors in his building, but would continue to perform abortions at a clinic in Buffalo.
Slepian, the father of four children, told friends he was determined not to let the frequent confrontations with protesters deter him.
"He said 'they're not going to scare me. They're not going to threaten me," said Harvey Rogers, a family friend and lawyer who represented Slepian after the doctor faced charges following a clash with protesters in front of his home in 1988.
Holiday taunts
In that case, protesters taunted Slepian, calling him "murderer," during the Jewish holiday of Hanukah, as his family opened gifts.
"It was during Hanukah, and I think he felt especially put out about that," Rogers said. One of the men Slepian confronted, Ronald Breymeier, claimed the doctor attacked him with a baseball bat.
The charges were settled in March 1989 when Slepian was ordered to pay about $400 for repairs to a van and the uninsured portion of Breymeier's medical bills.
The FBI and the federal Bureau of Alcohol Tobacco and Firearms are investigating Slepian's death.
A few hours before he was shot, Slepian had dropped by Rogers' son-in-law's home to drop off a birthday present, Rogers said. "It's probably still sitting there," he said.
To see more documents/articles regarding this group/organization/subject click here.