Did Scientology Strike Back?
American Lawyer/June 1997

by Susan Hansen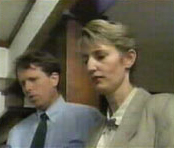 Kendrick Moxon, Scientology lawyer with Lisa Goodman, public relations Scientology
When the end finally came for the old Cult Awareness Network, it happened fast. Cynthia Kisser, CAN's executive director, struggled to stay calm as she sat in federal bankruptcy court in Chicago late last October waiting for the auction to begin. Kisser, who had spent the past nine years leading CAN's efforts to inform the public about dangerous cults, had hoped that she wouldn't have to pay much for her group's assets that day. Nor did she want much, she claims—just the chance to put the hopelessly bankrupt CAN out of its misery by buying up its trade name, post office box, help line number, and service mark, so that all could be retired.
[Note: WARNING! The Cult Awareness Network (CAN) was recently bankrupted and bought up by Scientology. We strongly recommend you do not contact them for assistance.]
There was another suitor in the courtroom, however—Steven Hayes, a member of the Church of Scientology. And Hayes, a lawyer who had come all the way from Los Angeles to attend the auction, had other plans.
The bidding started at $10,000. Kisser offered $11,000, Hayes raised her by $1,000. The two quickly inched up to $15,000. Kisser kept going, to $17,000, then $19,000. But when Hayes upped the bidding by another $1,000, Kisser finally balked. "No more," she told Philip Martino, the bankruptcy trustee overseeing the sale. From there, it was all paperwork. "I will accept the offer of Mr. Hayes for $20,000," Martino announced dryly. "We will document this with a court order tomorrow."
It was a clinching event, if not the high-noon moment, in the strange story of the Cult Awareness Network's destruction. Today, a newly reconstituted CAN is up and running. The group has kept its old name, help line number, and Chicago mailing address. But it's got a new newsletter and a brand new board of directors. And, according to Kisser and her horrified backers, the Church of Scientology—the old CAN's archnemesis—is now firmly in control. Hayes's supporters, meanwhile, are all but kicking up their heels over his coup. For years, they claim, the old CAN had spread hate and vicious lies about Scientology and other "minority religions." Now, the newly reincarnated and—Hayes insists—multi-denominational CAN is providing "accurate information," ending the "scourge," as he puts it, of the old CAN's legacy of religious bigotry.
If the sale of CAN's name happened in a blink, the takeover was actually years in the making. A Scientology magazine, after all, had once described CAN former executive director Kisser as "the mother of the serpent," and there's little doubt that Scientology followers had targeted the Berrington, Illinois-based nonprofit well before the bankruptcy sale. Starting in 1991, CAN was forced to fend off some 50 civil suits filed by Scientologists around the country, many of them asserting carbon copy claims and many pressed by the same law firm, Los Angeles's Bowles & Moxon. Scientologists also filed dozens of discrimination complaints against CAN with state human rights commissions nationwide, requiring the services of still more lawyers. The avalanche of litigation staggered the network. By 1994 CAN, which ran on a budget of about $300,000 a year, had been dumped by its insurers and owed tens of thousands of dollars to attorneys.
Since then, CAN has been spun around in the courts in one humiliating turn after another. One pivotal suit, a 1994 civil rights case alleging that a CAN volunteer was responsible for a Washington man's abduction in a failed cult deprogramming, proved to be more than CAN's outmaneuvered legal team could handle. The result: a $1.875 million jury verdict against CAN that sent it running for the protection of bankruptcy court, and that, ultimately, put all of CAN's assets on the uction block and into the hands of Scientologist Hayes [law partner of Timothy Bowles—formerly of "Bowles & Moxon"—Bowles is also a Scientologist and admitted member of Scientology's "Office of Special Affairs"—OSA]
Former executive director Kisser and her defenders are now seething, claiming that Scientologists are answering the group's help line— and railing at the way that they claim Scientology manipulated the courts. "This is like Operation Rescue taking over Planned Parenthood," protests Herbert Rosedale of New York's Parker Chapin Flattau & Klimpl. "It's a massive fraud upon the public."
Like Rosedale, lawyers from a handful of big firms—Washington's Arent Fox Kintner Plotkin & Kahn, Seattle's Preston Gates & Ellis, and Chicago's Mayer, Brown & Platt—have been piling up hundreds of pro bono hours in their rush to the old CAN's rescue. They are currently working to block Scientology supporters from grabbing control of CAN's files—files that list the names of those who lodged complaints against Scientology and other groups. They are also appealing to wrest back CAN's name. But given the beating CAN has taken, there may be only so much salvaging they can do. "Scientology set out to destroy us," laments Kisser. "They had the money to destroy us, and they were going to press on and press on and press on until they did."
Kendrick Moxon, the frequent Scientology lawyer [named as an unindicted coconspirator within a "stipulation of evidence" regarding a federal indictment that sent 11 Scientologists to federal prison; including Mary Sue Hubbard wife of Scientology's founder L. Ron Hubbard [see http://www.culteducation.com/group/1284-scientology/23185-stipulation-of-evidence-in-the-usa-vs-mary-sue-hubbard-.html] played a starring role in CAN's demise, isn't sorry. "Suppose there's a disease in your community, and the disease died out," asks Moxon. "Is the doctor responsible for creating the serum that killed the disease to be lauded or criticized?"
"In actual fact, the snake killed itself," insists Moxon. "The snake devoured itself [and] lay down in the road."
Scientology was the last thing on Henrietta Crampton's mind when she helped start the support group that eventually became CAN. It was 1973, and Crampton, a lifelong California resident, was the worried mother of a 19-year-old daughter, Kathy, who had joined a Seattle cult called the Love Family. In one of her few letters home, Kathy told her parents that she now had lots of new brothers and sisters and would no longer need to communicate with her family. "It was like a dream," says Crampton, who recalls making a frantic trip to Seattle to see Kathy and finding her face covered with sores. "I couldn't believe this could happen."
After that visit, Crampton and her husband grew more desperate to find out everything they could about the Love Family, and desperate to find a way to bring their daughter home. That effort ultimately put Crampton in touch with a loose network of parents with sons and daughters caught up in cults. Crampton and Bill Rambur, a San Diego man whose own daughter had been recruited into a group known as the Children of God, decided to give the network a more formal structure. In 1974 the two started organizing regular meetings. They gave the group a name, the Citizens Freedom Foundation, and began putting out a newsletter.
Crampton had barely heard of the L.A.-based Church of Scientology when the Citizens Freedom Foundation (CFF) began. She knew nothing about L. Ron Hubbard, the science fiction writer who had founded the group in the early 1950s, and even less about Scientology's complicated belief system, which essentially holds that human beings need to be cleared of negative forces called "engrams"—a process that requires an intensive (and often expensive) multistep therapy known as "auditing," along with a series of Scientology courses. CFF leaders did get phone calls and complaints about Scientology. Some of the callers were alarmed parents, recalls former CFF director Priscilla Coates, worried because their sons or daughters were pressing for thousands of dollars to pay for Scientology courses. Other calls, she says, concerned family members who had "disconnected" (cut off all contact) with parents and siblings after joining Scientology. CFF would dutifully share information about such complaints with its members. But CFF, which changed its name to the Cult Awareness Network in 1985, reported on hundreds of groups, stresses Coates, of which Scientology was just one.
Hubbard's followers did end up attracting extra attention, however— if only for their persistent attempts to undermine CFF's (and later CAN's) work. Their tactics ran the gamut, according to Crampton, from sending Scientology infiltrators to volunteer at her group's offices to putting out fake (and highly inflammatory) flyers and booklets under its name. In what eventually became standard practice, Scientologists would also picket CAN's meetings, adds Coates, and accuse her and other CAN members of being Nazis. Karin Pouw, a spokesperson for the Church of Scientology, concedes that Scientologists did hold demonstrations against CAN, but denies that there was any coordinated harassment campaign. CAN's ex-leaders are suffering from "an extreme case of paranoia." claims Pouw. "The whole story is full of lies."
In any event, Coates insists that most of Scientology's antics weren't "taken as any big deal." But beginning in 1991, she contends, its tactics became far more aggressive. CAN's national office and local affiliates began receiving literally hundreds of letters from Scientologists demanding membership in the group. "You could kind of see the handwriting on the wall," recalls CAN member William Rehling, a former prosecutor with the Cook County state's attorney office in Chicago. "They were getting ready to sue."
Between 1991 and 1993, some 50 suits were filed against CAN by individual Scientologists in state and federal courts in Illinois, California, Minnesota, New York, Oregon, Massachusetts, and Washington, D.C. In one week alone in 1992, says former executive director Kisser, the group got hit with at least eight individual suits. Getting sued became routine. "There would be a knock on the door, I'd open it, and there would be a process server," recalls Kisser, who would then fax the papers to CAN's lawyers and insurer. Though individual Scientologists had filed the suits, almost all the plaintiffs were alleging discrimination, often using identical language, based on one of two claims: Either they had been denied membership in one of CAN's local affiliate groups, or they had been refused admission to CAN's annual conference. In addition, the vast majority of the plaintiffs were represented or assisted by the same firm: L.A.'s Bowles & Moxon.
Even attorney Eric Lieberman, who is currently defending both Bowles & Moxon and Scientology in a 1991 malicious prosecution suit brought by CAN, admits that the church helped fund and coordinate the suits against CAN. But Lieberman, a name partner at New York's Rabinowitz, Boudin, Standard, Krinsky & Lieberman, denies that there was ever any grand strategy for targeting CAN. Moxon, a longtime Scientologist, claims that he became involved because individual plaintiffs sought him out for his expertise in religious discrimination litigation. The reason the suits were so similar, he explains, is simple: Almost all the plaintiffs had suffered the same harm. "These were filed by [individual] Scientologists who were victimized by CAN," adds Moxon. "That's the long and short of it."
California attorney Daniel Leipold, who defended CAN in roughly three dozen suits, isn't persuaded. "You would have to be some kind of vegetable not to see that this was part of some plan," declares Leipold, a partner with Glendale, California's Hagenbaugh & Murphy. He contends that this became even clearer when he began deposing individual plaintiffs and discovered that some had not even applied for membership in CAN before they sued. Others, he says, had no idea who was paying for their lawyers or how those lawyers had been picked.
Leipold, like other attorneys caught up in litigation against Scientology, maintains that Moxon has long served as a point person in the church's orchestrated campaigns against its enemies. Moxon, in fact, did serve as a member of the group's public relations, legal, and intelligence unit, the Guardian's Office—which became the Office of Special Affairs—at the time of Scientology's infamous burglary of Internal Revenue Service and Justice Department offices in the mid-1970s. Though federal prosecutors never charged Moxon with any criminal behavior or named him as a party in their case, he was mentioned in a 1979 "stipulation of evidence" agreement as having "been directed to supply the government with fake handwriting samples" in an effort to obstruct the investigation of the break-ins. The agreement, which does not state that Moxon knew the handwriting samples were fake, was signed by nine Scientology defendants as part of a plea bargain. Moxon insists that the statements about him in the 1979 stipulation are false.
While Moxon's current firm, Moxon & Bartilson, lists a Glendale, California, address, Leipold nevertheless claims that Moxon effectively acts as one of Scientology's in-house lawyers. Scientology general counsel Elliot Abelson confirms that much of Moxon's work is Scientology-related and that Moxon also keeps an office in the church's Hollywood Boulevard headquarters. He insists, however, that neither Moxon nor any other Scientology lawyer are doing anything other than protecting the group's religious rights. "Scientology has been under attack for years," asserts Abelson. The church's policy on litigation, he adds, "is not to turn the other cheek," but to "aggressively protect itself."
Kisser, CAN's former executive director, says she's still not sure exactly what brought on the barrage of Scientologist lawsuits. One theory is that Scientology leaders were angered by her remarks in a devastating May 1991 Time magazine cover story on the group, headlined "Scientology: The Cult of Greed." After the article, Scientology's attacks on CAN grew more disruptive, according to Kisser and another longtime board member, University of California at Berkeley psychology professor Margaret Singer. CAN, they contend, even had to hire security guards for its 1992 conference in Los Angeles because they claim that, among other things, Scientologists blocked CAN members' way onto hotel elevators and attempted to follow convention speakers to their rooms. Randy Franklin, a Los Angeles police officer who was one of the private security guards CAN hired, testified in a March 1994 deposition that a number of Scientologists also taunted and verbally harassed CAN members after being turned away from the meeting. Scientology spokesperson Pouw allows that some individual Scientologists tried to register for the conference, hoping to "dialogue" with CAN members. But she denies that any further disruption occurred. "It sounds like an absolutely outrageous lie on CAN's part," she says.
In any case, Scientology publications such as Freedom magazine certainly made their contempt for CAN clear. One 1995 issue of Freedom, for instance, bore the cover line "CAN: The serpent of hatred, intolerance, violence and death," and inside compared CAN to "a hate group in the tradition of the KKK and neo-Nazis." The same issue also repeated charges that before she became CAN's executive director in 1987, Kisser had been a topless dancer in a Tucson nightclub—an accusation that Kisser calls "ludicrous."
Kisser, who recalls that CAN fielded roughly 20,000 requests for information in an average year, says the group went about its work in spite of the attacks. Yet the endless stream of suits that Scientologists were filing created a much more dire set of problems.
CAN had fought back by bringing the 1991 malicious prosecution suit
against Bowles & Moxon and the Church of Scientology. But that suit
which CAN lost in the lower courts and was pending in the Illinois Supreme Court at press time—couldn't provide any instant relief from CAN's mounting legal bills. After getting cut off by its insurers in 1993, CAN stepped up its search for donors. But by then CAN was paying out roughly $10,000 a month in legal bills, and Kisser says that would-be contributors were reluctant to fund a group that was spending almost all of its income on lawyers.
By the time Bowles & Moxon brought their final suit against it in January 1994, Kisser says that on paper CAN was already bankrupt.
That 1994 suit, the Scott case, was different from the others. For
one thing, the plaintiff, a 22-year-old Seattle-area resident named
Jason Scott, was not a Scientologist, but a strict Christian
Pentecostalist [actually a member of a church affiliated with the United Pentecostal Church International http://www.culteducation.com/group/1213-united-pentecostal-church-international.html]..And this time CAN wasn't the only defendant in the case.
Clearly, Scott, who had been kidnapped in a failed cult deprogramming in 1991, offered his lawyers a dramatic set of facts to work with.
The circumstances that led to Jason Scott's abduction are largely uncontested. Katherine Tonkin, a mother of seven who had remarried twice since giving birth to Jason, had in 1989 joined the Life Tabernacle Church, a small United Pentecostalist congregation in Bellevue, Washington, hoping it would be a stabilizing influence on her family. She soon found the church's "holiness standards"—no television or movies; no pants, short sleeves, or jewelry for women—too authoritarian, and within a year Tonkin quit the congregation [see Tonkin Affidavit http://www.culteducation.com/group/888-cult-deprogramming/5602-affidavit-of-katherine-l-tonkin-.html ].
Jason and his two younger brothers, Matthew, 13, and Thysen, 16, refused to follow their mother. And as she would later testify, Tonkin grew worried that church leaders were actively working to turn her sons against her.
Tonkin's concerns only escalated in early 1990, after her two oldest boys moved in with the families of two of the church's leaders, and Matthew left to live with his grandmother. Unsure of where to turn, Tonkin called a Seattle crisis hotline and got a number for Shirley Landa, a CAN volunteer in Seattle. Landa, upon hearing Tonkin's complaints about the church, gave Tonkin yet another referral—to Rick Ross, a Phoenix-based expert on cults who had been involved in more than 200 deprogrammings. Tonkin called Ross, and in December 1990 Ross flew out to Seattle.
Of the three deprogrammings Ross subsequently performed for Tonkin, only Scott's was problematic. Jason, after all, was already 18 at the time his mother hired Ross, and as he would later testify, on the morning that the three men assisting Ross grabbed Scott, handcuffed him, and forced him into a van, he yelled that they had no legal right to abduct him. What happened next would make for even more vivid testimony. When he continued to scream, his abductors slapped duct tape on his mouth. They held him down on the floor of the van, and drove him four hours away to a beach house on a deserted stretch of the Washington coast. For five days, Ross forced Scott to watch videos on religious cults and tried to get him to renounce the Life Tabernacle Church. Finally, he decided to tell Ross and his other captors what they wanted to hear. When the group went out to dinner, Scott bolted from the restaurant and immediately went to the police.
Was CAN responsible for Scott's kidnapping? CAN supports only legal means for getting individuals out of cults, claim Kisser and other board members, and never would have knowingly made a referral for a forcible deprogramming. Still, a CAN volunteer had referred Scott's mother to Ross. And when Jason Scott filed his civil suit in U.S. district court in Seattle in early 1994, he alleged that CAN, along with Ross and two of his assistants, had conspired to violate his civil rights. Scott claims he hadn't initially thought much about filing a civil suit. But during the criminal kidnapping trial of Ross [in which he was found "not guilty"] and Scott's other abductors, an attorney called him, Scott says, andbegan persuading him that he had a civil case. That lawyer, Marcello Di Mauro, [see letters from Di Mauro to prosecutor http://www.culteducation.com/group/888-cult-deprogramming/5616-letters-from-scientology-lawyers-to-county-prosecutor.html ] was an associate at L.A.'s Bowles & Moxon.
"He appeared out of nowhere," recalls Scott, now 25, during an interview at a restaurant near his home two hours north of Phoenix last March. He contends that soon after the call, Di Mauro flew up from Los Angeles, took him out to dinner, and excitedly talked about the "millions of dollars" that a suit against CAN would bring. By the time he drove Di Mauro to Seattle's Sea-Tac airport, Scott had pretty much made up his mind. "He springs this paper on me and says, 'I represent these people who will get you money,'" recounts Scott. "It was like, 'Just sign this paper and here we go.'" (Di Mauro did not return repeated calls for comment.)
Scott would not meet Kendrick Moxon, the lawyer who would actually try his case, until months later. "I didn't know anything about him," claims Scott, remembering their first meeting. Moxon did tell him that he had done some work for Scientology in the past. But Scott maintains that he was only vaguely aware of the litigation battle that Moxon was waging against CAN, and adds that he didn't learn that Moxon was one of the church's most active lawyers—or that he has an office in Scientology headquarters—until after the trial. Moxon insists that Scott was fully aware of the litigation against CAN—in fact, he claims, that was the reason Scott hired Bowles & Moxon.
CAN's defense attorney, Mary Steele, a partner at Seattle's Davis Wright Tremaine, picked up the Scott case after the main partner who had been handling it left the firm. Steele, who had been fully briefed about all the suits Scientologists had filed against CAN, says that she was convinced that Scientology was also behind the Scott case. She thought it was critical that the jury learn about Scientology's long-standing enmity toward CAN, but shortly before the trial, in mid-1995, U.S. district judge John Coughenour ruled that she could not introduce anything about Scientology as evidence. "He said the Church of Scientology would not be mentioned in any way, shape, or form," recalls Steele.
Moxon, for his part, argues that for Coughenour to have decided the matter otherwise would have been a "horrible mistake of law." The United Pentecostalist church, not Scientology, paid for expenses in the suit, claims Moxon, who adds that any suggestion that he was pursuing some broader Scientology agenda is just "another lie promulgated by CAN." Nathaniel Urshan, general superintendent of the United Pentecostalist Church International, denies that his church covered expenses. But Moxon supplied a copy of an unsigned March 1995 letter, ostensibly written by Urshan, calling on church ministers to raise funds for the Scott trial.
Davis Wright's Steele had tried to get the entire suit against CAN thrown out on summary judgement. CAN, she argued, not only had a clearly articulated policy against assisting involuntary deprogramming, but Kisser and other board members weren't even aware of volunteer Landa's referral to Rick Ross. Therefore, she asserted, the group could not be held liable. The move for dismissal didn't sway Judge Coughenour. Steele had also considered trying to get CAN a separate trial, but says she was pessimistic that such an effort would succeed in a civil case. Her strategy instead was to try to set CAN apart from its co-defendants—Ross and the other men who had abducted Scott. Moxon's strategy was just the opposite. Once the nine-member jury assembled in Seattle's federal district courthouse in late September 1995, he did everything he could to place CAN at the center of a conspiracy.
The Shirley Landa connection was crucial. Moxon pounded away at the fact that CAN volunteer Landa instigated the kidnapping by referring Scott's mother to Ross, a well-known deprogrammer. What's more, Moxon noted that Landa, one of CAN's founding members, was the first person Ross called after his arrest for Scott's kidnapping in January 1991. And, as he pointed out to the jury, even after CAN found out about Landa's referral to Ross, it allowed her to remain a volunteer.
The testimony of Anson Shupe, [who many regard as a "cult apologist"] a sociology professor from Indiana University - Purdue University, put an even more damaging spotlight on CAN. Shupe, who claimed to have spent 20 years studying CAN, told the jury that the "anticult movement" had a long history of attacking unconventional religious groups. And CAN leaders, he stated, had along record of supporting coercive deprogrammings. The irony, he testified, was that in conducting deprogrammings, anticult activists used the very same alleged recruitment techniques—such as depriving individuals of freedom of movement and information—as the groups they criticized.
"Are you saying the anticult movement is a cult?" asked Moxon during direct examination. "It has aspects of it," answered Shupe, "yes."
In cross-examination Davis Wright's Steele did get Shupe to admit that CAN's own literature explicitly barred its officers, board members, and paid staffers from any involvement in involuntary deprogrammings. But Kisser, who claims that Shupe is a well-known "cult apologist," says she still doesn't understand why he was allowed to testify as an expert witness.
"If they didn't like his testimony, why didn't they object?" asks Moxon. Shupe is "the foremost expert on the antireligious movement" in the country, insists Moxon, scoffing that CAN's defense team was "so awed by his testimony that they didn't say anything."
CAN attorney Steele had in fact tried to prevent Shupe from appearing as an expert witness—Judge Coughenour ruled that he would let the jury make up its own mind about Shupe's credibility—and hearing transcripts show that Steele did raise two specific objections after Shupe took the stand. But Steele admits that after she was overruled she essentially let Shupe have his say. To Steele, a far bigger problem than Shupe was money. CAN, she recalls, couldn't afford to hire its own expert witness—or to fly more than one or two board members to testify at the trial. "We couldn't put a full-court press on this," she says, adding that by the time the trial started, it was clear that her firm, Davis Wright, wasn't going to get paid.
Steele also laments that the key issue in CAN's defense—the question of agency, or whether CAN should be held liable for the actions of an unpaid volunteer—was not one that necessarily plays well with a jury. Yet she admits that Moxon's indignant style came off well in the courtroom and that he was effective in making his case. In the end, after a full week of testimony and a day and a half of deliberations, then nine jurors on September 29, 1995, unanimously found all defendants liable for the kidnapping and awarded Scott $4.875 million. The price for CAN: $875,000 in damages, and another $1 million in punitives. Juror Irma Mae Erickson, a Seattle-area nurse, recounts that while not all members of the panel were convinced that CAN's leaders knew about the referral to Ross, "people felt [that CAN] needed to be held accountable."
"I think we felt like all [the defendants] were tied in," recalls juror Joseph Bodnar. Moxon, he says, "seemed to have a lot of stuff together."
CAN immediately announced its intention to challenge the verdict. But the group had little more than a month before Moxon, Scott's lawyer, would be able to cash in on the judgement, and it desperately needed to head off that effort. Steele filed a motion the first week of October to stay the judgement during CAN's appeal, and petitioned Coughenour to give the matter expedited consideration. Coughenour refused to consider the stay request any sooner. CAN also did not have the hundreds of thousands of dollars it would have needed to get a stay by posting bond, and Coughenour rejected Steele's petition to allow CAN to put up a smaller amount. By mid-October a panicked CAN decided that bankruptcy was the only way to avoid a wholesale seizure of its assets, and on October 19, 1995, it filed for Chapter 11 in U.S. bankruptcy court in Chicago.
CAN had viewed bankruptcy court as a haven that would give it time to pursue its appeal of the Scott case in the Ninth Circuit. Yet the appeal, handled pro bono by Seattle's Preston Gates & Ellis, dragged on for months—in part because Moxon, who represented Scott, CAN's largest creditor, objected to the release of any funds to cover appeal costs. And events in bankruptcy court soon began to overtake CAN. David Brown, the DesPlaines, Illinois-based solo practitioner whom CAN had originally hired to guide it through Chapter 11, had 120 days to put together the group's reorganization plan. Weeks passed, however, and CAN board members discovered that while Brown had put in some hours fielding a slew of discovery requests about CAN's assets from Moxon, he had done virtually nothing to plot the reorganization. (Brown declined to comment on his work for CAN.)
CAN replaced Brown, signing up Benjamin Hyink, an attorney with Chicago's two-lawyer Hyink & Scannicchio. Hyink was able to get an extension for CAN's reorganization plan. But that task was probably doomed from the start, considering that CAN had just over $50,000 in cash and owed its creditors, including Scott, several law firms, and a printing company, more than $2 million. At least Moxon, who filed a flurry of papers to have the bankruptcy dismissed, thought so. CAN, he maintains, never had any hope of paying off its creditors and was merely looking to stall. "The whole point of the bankruptcy," declares Moxon, "was a sham."
Moxon wasn't the only one arguing for dismissal. Roman Sukley, who was overseeing the CAN bankruptcy for the U.S. trustee's office in Chicago, had also told bankruptcy court judge Ronald Barliant early on that he did not believe CAN could ever come up with a workable reorganization plan. And indeed, when in March 1996 Hyink finally came up with a scheme—which proposed giving Scott about $20,000 (less than 1 cent on the dollar) up front while paying other creditors about 47 cents on the dollar over a three-year period—Judge Barliant rejected it. Hyink came up with a second proposal two months later, but the judge found that it, too, was unfair to Scott. Hyink asked for another chance to rework the reorganization scheme—a request Barliant refused. Faced with the prospect of being thrown out of bankruptcy altogether, in June 1996 CAN opted to convert to Chapter 7.
It wasn't a pleasant choice. Unlike a Chapter 11 reorganization, a Chapter 7 bankruptcy meant that CAN would have to give up all control over its assets to a trustee who would oversee CAN's liquidation. As the lawyer for Scott, CAN's largest creditor, Moxon had the most votes when it came time to elect the permanent trustee. He chose Philip Martino, a partner at Chicago's Rudnick & Wolfe who had served as trustee on dozens of federal bankruptcies. (Moxon says he opted for Martino on the advice of his local bankruptcy counsel, David Lervin of Chicago's Lervin & Stein, who told him that Martino had a reputation for being honest.)
Martino quickly moved to inventory CAN's offices in preparation for an auction. There didn't appear to be much to fight over: CAN had some file cabinets, a copy machine, a scanner, several computers, and a $50,000-plus checking account.
Yet it also had intangible assets like its trade name, P.O. box, and help line number, along with files on the hundreds of groups that CAN had reported on through the years—and those, as it turned out, would be hot properties.
Judge Barliant's courtroom was lined with lawyers on October 23 of last year, the morning of the hearing to authorize the auction. Kisser and CAN lawyer Hyink claim that they weren't sure the sale would be held that day, but they were optimistic that when it did take place, Kisser would be able to buy CAN's service mark and trade name so that both could be retired. In fact, Kisser claims that trustee Martino led her to believe as much a month before the sale, when, she contends, he solicited her bid for CAN's name. She also points out that the October 16 sale application that Martino sent out stated that there were "no other offers for these assets" than hers. (Martino declined to comment for this story, but did say that Kisser is "not dealing with the same reality" as he is.)
Things didn't turn out the way that either Kisser of Hyink say they expected. For starters, Martino announced to Judge Barliant that he wanted to hold the sale immediately after the hearing. And, more importantly, another bidder—attorney Steven Hayes, the Scientologist who works with Moxon's former colleague Timothy Bowles at L.A.'s Bowles & Hayes—was vying for CAN's assets.
While Kisser and Hyink might have been surprised by Hayes's sudden interest, they certainly didn't say much that day. Kisser did express concern about CAN's name being used "to defraud or confuse the public," but went on to add that she wasn't "necessarily saying that [this was] a reason to preclude" the sale. Martino was even more matter-of-fact: "Judge, I've never been involved in a case . . . where one group wants to purchase something because they think it's valuable because they want to do X with it, and one group wants to purchase something because they want to do the opposite of X with it." He told the court, however, that he didn't care what happened to the name. "My job is to get money in here," he said, "and what they do with it after they buy it is their business."
In posting the winning bid, Hayes, as CAN appeals lawyer David Bardin of D.C.'s Arent Fox puts it, got a "helluva bargain." Not only did his $20,000 bid buy CAN's name, logo, phone number, and office equipment, it also gave him rights to at least 15 court judgements won by CAN. These included judgements for attorneys' fees and costs from suits like the ones Bowles & Moxon had brought against CAN and lost, which, according to Kisser, were easily worth $100,000.
After the sale, Hayes proceeded to license CAN's name and help line number to a newly created group in Los Angeles called the Foundation for Religious Freedom, which is running the new CAN. Hayes, who says that he raised the $20,000 from "friends," denies that Scientology leaders paid for the purchase of CAN's assets or are in any way controlling the group. Though two of the foundations five board members are Scientologists, Hayes points out that its chairman, George Robertson, is a Baptist [ actually a member of a "cult" known as "The Bible Speaks", and now "Greater Grace" of Baltimore, MD—this group was forced off its property in MA through a judgement of $6 million awarded to a former member] while the other two include a Buddhist and apractitioner of a "new age" religion. Instead of "spewing hate" the way the old CAN did, Hayes claims that the new CAN is now putting out factual information about all religious groups and doing "all kinds of exciting things." Robertson, chair of CAN's new board [recommended by Scientology as a resource see http://www.culteducation.com/group/1963-resources-recommended-by-the-church-of-scientology-published-list-from-freedom-magazines.html and http://www.culteducation.com/group/1928-the-new-cult-awareness-network-bought-by-scientologist-recommends-experts-regarding-heavens-gate-suicide-list-includes-gordon-meltons.html ], notes that the group has been publishing a new newsletter—one recent issue featured a glowing article headlined "Scientology: The Inside Story at Last"—and is working to develop a new code of ethics. Under the old CAN, he says, "the bottom line was that any [group] was a cult that they claimed was a cult. [It should be note that neither Robertson's "Baptist" ordination, so-called doctorate or teaching credentials can be verified as accredited. It seems his "doctorate" is from a "diploma mill" that is now closed, his ordination with a seemingly unknown denomination and his teaching confined to an unaccredited school run by the previously mentioned group "Greater Grace" in MD].
"We want to be a self-policing interfaith association," adds Robertson, who says that the new CAN is inviting "any and all religious groups" to join up.
Still, former board members insist that the new CAN—or as they put it, the "fake CAN"—is nothing more than a Scientology front group. Kisser, for one, contends she's well acquainted with Robertson, who she claims used to make regular appearances at anti-CAN events with Scientologists and had a "long history of harassing" the former CAN. "[Robertson] is up to his ears in Scientology," contends Kisser.
"They're liars, [and] they've been liars from the beginning," counters Robertson. "We [the new CAN] are just doing what needs to be done."
Robertson's efforts have been running into some resistance. For while the old CAN may have had trouble paying off its debts, it has recently had better luck attracting free legal representation. And now two law firms—Washington's Arent, Fox and New York's Parker Chapin—have joined the fight to convince the U.S. district court in northern Illinois to reverse the sale. Their appeal has raised a host of objections—ranging from how the auction was handled to the fact that CAN's name was sold at all—while picking apart the actions of bankruptcy trustee and Rudnick & Wolfe partner Martino. For instance, CAN lawyer Bardin of Arent Fox argues in his appeal brief that Martino didn't advise all of CAN's creditors about the auction, as required under bankruptcy law. Worse, he told the court, Martino deliberately failed to reveal that Hayes had submitted a bid for CAN's assets a month before the auction—an omission he called an example of "collusion" between Martino and Moxon and Hayes. If Hayes's bid had been disclosed sooner, says Bardin, CAN would certainly have raised a protest over the potential misuse of its name, and the sale, he claims, could not have been "rushed" through. "Feigning neutrality," wrote Bardin in his appeal of the bankruptcy sale, "trustee Martino managed his sale of selected assets to give [the] buyer as much as possible of what he wanted—quite enough to defraud the public—at a bargain basement price."
In Bardin's scenario, what Martino might have hoped to gain isn't clear. Bardin notes that Moxon had gotten Martino elected as trustee and says that Martino may have felt beholden to do what Moxon wanted.
Parker Chapin's Rosedale speculates that Martino might have also had other motives that "were not readily apparent." Scientology is big enough and wealthy enough, he insists, to "have offered inducements" such as promises of future work—"to any firm in the city of Chicago."
Martino declined comment, saying only that Judge Barliant's March 3 memorandum approving his fee application speaks for itself. In that opinion Barliant stated that he believed that Martino had given proper notice of the sale, adding that he found it "bizarre, to say the least, that CAN, having elected the liquidation chapter of the Bankruptcy Code, then complains that the trustee liquidated its assets."
Nor did he see any evidence that Martino was biased. "CAN merely implies a conspiracy every time the trustee has a conversation or exchanges correspondence with one of the parties that CAN perceives is its adversary," wrote Barliant. "The court cannot make a finding of prejudice based on innuendo and hearsay."
Moxon, for his part, insists the allegations of collusion are laughable. "CAN was trying to put one over on the bankruptcy court" by buying the assets "for a song," charges Moxon, and that plan "got folded."
Still, Bardin argues that in the final analysis, the sale of CAN's name was never valid. To avoid public deception, Bardin claims that trademark law requires that the transfer of a given trade name or service mark be accompanied by assets such as contributor or customer lists and intangibles like a company's reputation for quality—all of which make up an organization's goodwill. In CAN's case, Bardin notes that such goodwill was never even up for sale—and he contends that bankruptcy court judge Barliant knowingly disregarded both trademark law and CAN's First Amendment protections in letting the sale of CAN's name go forward. Parker Chapin's Rosedale made the same points in an amicus brief he submitted on behalf of an ally of the former CAN, the International Cult Education Project. The "malevolent misappropriation" of CAN's name should be voided as a matter of public policy, wrote Rosedale. "The issue and its resolution," he stated, "are of interest to every advocacy group that can be hounded by its enemies."
Scientologist Hayes claims that Bardin and the former CAN's other lawyers are picking out little pieces of trademark statutes, while "totally ignoring" other case law. "That's so crazy," he says of Bardin's arguments on goodwill.
They're trying to "create an issue," adds Moxon, and "they're completely confused."
CAN's name isn't the only asset at stake. CAN staffers had spent years fielding complaints and compiling newspaper clippings on hundreds of allegedly dangerous cults, and if Moxon and the former CAN lawyers agree on one thing, it's that this information—now being held in almost 300 file boxes in a storage facility rented by the trustee—is valuable property. The trustee had originally planned to put CAN's files on the auction block, and Moxon claims as many as 30 groups, ranging from the Unification Church to the followers of Lyndon LaRouche, were interested in making a bid. CAN leaders, though, protested that the files contained hundreds of names of people who had supplied information or registered complaints. Selling the files would constitute a gross violation of privacy, they argued, and expose countless individuals to potential harassment.
CAN's network of supporters rallied, flooding Martino's office with phone calls and letters—some of which threatened legal action against both him and Rudnick & Wolfe if he proceeded to auction off the files. Martino attempted to devise a redaction agreement, which would have blocked out names and any other sensitive material. But after months of trying to come up with a workable proposal, he decided that the expense of the threatened litigation would add up to far more than the price the files might fetch. In January he moved to return those records to the old CAN's board—a decision that Judge Barliant upheld.
Moxon has appealed the decision, arguing that the trustee had failed to exploit an opportunity to bring tens of thousands of dollars into CAN's estate. The Foundation for Religious Freedom, CAN's new overseers, he notes, had put in a bid of $75,000 for CAN's files— files that Moxon claims are filled with all kinds of "smoking guns" proving CAN's past ties to illegal kidnappings and deprogrammings. The issue, he adds, is "whether CAN can intimidate the trustee to prevent their most valuable asset from being sold.
"I'm a creditor to the estate," declares Moxon, who claims he's still owed $1 million in attorney's fees from the Scott case. "I want to get paid."
Moxon isn't getting much sympathy from Scott, who today is being represented by a new lawyer—Graham Berry of Los Angeles's Musick, Peeler & Garrett. It's yet another strange twist in the story of CAN's bankruptcy. Scott says he now believes that he was a "pawn" in Scientology's "whole game." He says he had trusted that Moxon was working in his best interest, but contends that after winning his case in September 1995, Moxon started avoiding his phone calls. When they did speak, he adds, Moxon became more and more noncommittal about when Scott would actually see any money. "It was torture," complains Scott, "having $4.85 million plus interest"—the amount of his judgement—"and not seeing a penny."
Scott, who had quit his carpet cleaning business after the verdict, claims that he wasn't offered a dime of the $20,000 that the bankruptcy trustee got for CAN's assets. A few weeks after that sale, he recalls, in mid-November 1996, he told Moxon that he was tired of waiting and wanted to sell his judgement. Moxon, he contends, told him the judgement wasn't worth anything. "He was like, 'Push it under the rug and get a job,'" recounts Scott, "and 'go on with your life.'" Moxon denies that he ever told Scott the judgement was worthless or evaded Scott's efforts to reach him. "I probably only called him a hundred times" after the verdict, insists Moxon. He admits that he did counsel Scott to go back to work, but sticks by that advice. "What's wrong with telling a young man to get a job?" he asks. "People should be productive and shouldn't sit around."
In early December Scott replaced Moxon with Berry. Berry, a self-styled "anticult" litigator who had been involved in half a dozen cases against Scientology, was bound to add to the fireworks—and, indeed, Moxon immediately began leveling charges that Berry had kidnapped Scott. At the time Scott was living in Arizona, having patched things up with his mother. He says that in mid-December, he was standing in his mother's driveway in greasy coveralls working on his truck when Moxon and a man he didn't recognize pulled up. Moxon told him how worried he had been, but Scott contends that when he assured Moxon that he was fine and simply wanted to change lawyers, Moxon informed him that he "had made the wrong decision." Scott claims that Moxon then said, "'You've been kidnapped and brainwashed, haven't you?'" Moxon soon left, but according to Scott, a short while later the man accompanying Moxon returned and served Scott with copies of a petition for guardianship that Moxon had filed in Washington state court. The December 10 action, which asked that an independent guardian be named for Scott, noted that after switching lawyers Scott had settled his $3 million-plus judgement against deprogrammer Ross for $5,000 [plus 200 hours of consultation work] an action that Moxon stated "constitutes prima facie evidence of a person who suffers from some form of incapacity."
Both Scott and Berry express amazement that Moxon would even think to question Scott's competence. Moxon defends the action, saying that he became genuinely concerned about his client's safety late last November, when he couldn't contact Scott. Then, he recalls, he got this "crazy communication" from Berry, advising him that he had taken over Scott's representation and that Scott had settled his judgement against Ross for less than 1 cent on the dollar. "I couldn't imagine a more insane thing to do," says Moxon.
Moxon is now satisfied that Scott is rational enough to handle his own affairs. He dropped the guardian proceedings on April 4, and less than two weeks later Scott sold his $1.875 million judgement against CAN for $25,000 to a Scientologist named Gary Beeny, who is being represented by Moxon. If nothing else, the purchase ensures that Beeny (and his lawyer Moxon) will have plenty of leverage in the continuing battle over CAN's files and other still undisposed-of assets (such as the 1991 malicious suit CAN filed against Moxon and Scientology) in bankruptcy court, since Beeny, not Scott, is now CAN's largest creditor. As for Scott, he says he just wanted to get something out of his judgement against CAN. "I [wanted] to get it over and done with," he sighs. "I just did what I had to do."
The fight isn't quite over. In late March, Moxon sent Berry a demand for arbitration rights (along with a threat to sue) to recover his attorney's fees from the kidnapping case—an action that has only fueled the fireworks. The two lawyers had already filed competing complaints against each other with the California state bar. (Berry alleged that Moxon had failed to turn over all his files from the Scott case; Moxon claimed Berry had failed to inform Scott about his allegedly long-standing ties to CAN. Both deny the other's charges.) Berry, who says his client is now seriously considering filing a suit against Moxon for professional negligence, among other things, claims that Moxon's demand for attorney's fees is nothing more than harassment. Moxon counters that Berry has led Scott astray. "Jason could have made a lot more money," he says. "Unfortunately, he decided to listen to the lies of a partisan."
Scott, meanwhile, says he can't wait until all the court battles are over so he can get on with his life. While he's happy to have gotten some money for his trouble, Scott says he feels stupid about the way he claims he was used. "It wasn't really me that was suing CAN—it was Scientology," Scott contends. "I was naive. I just kind of rode the waves of what they wanted me to do." Of course, Scott's change of heart is a little late to help out the former CAN. The group is still appealing the Scott judgment, still fighting its malicious prosecution claim against Scientology, and still trying to undo the sale of its assets in bankruptcy court. Yet its reputation is now so badly battered that Kisser says its only real goal is to hold on to its files and win back its name so it can die a more dignified death.
That fate may well have been avoided with savvier lawyering. CAN lawyer Bardin, for instance, points out that the group might have considered going into bankruptcy when it was flooded with all the lawsuits, which would have left it far better positioned to control the proceedings. CAN, though, didn't have a general counsel or any outside adviser to help it sort out its options. And, as Parker Chapin's Rosedale notes, once the group stumbled into bankruptcy court, it was caught badly underprepared. CAN, says Rosedale, "very naively believed that if you have a white hat, you're a good guy, and somebody up there will be looking out for you."
Some of CAN's grassroots members are now talking about trying to regroup under a new name. But that's unlikely to happen soon, and CAN co-founder Crampton says she worries that in the meantime the parents of children in destructive groups won't have anywhere to turn.
The former CAN's help line is still ringing. Indeed, new CAN chair Robertson claims his organization has been getting 500 - 600 calls a month—only about 2 percent, he maintains, involve Scientology— and has been assembling a network of volunteers to provide counseling to families. Robertson readily admits that some groups (like Heaven's Gate) are potentially destructive. But he says that unlike its predecessor, the new self-policing "chamber of commerce-like" CAN will not be making referrals to deprogrammers or conducting any kidnappings. "Sanctity of human life will be tops on the list," he boasts.
In the end, he and other boosters of the new CAN insist that the old CAN only got what it deserved. And Moxon says he's happy to have played a part. The old "CAN no longer exists because it was a hate group that destroyed families," declares Moxon. "I'm very proud of what I've done."
To see more documents/articles regarding this group/organization/subject click here.